PURPLE – International Dance Festival for Young Audiences
As the initiator and artistic director of PURPLE, I want to create access to contemporary dance – not only – for a young audience. Since 2017, I have been organising this international dance festival together with my colleague Inge Zysk in Berlin. Our goal is to get children and young people excited about dance and curious about contemporary performances.
We not only want to sharpen the viewing habits of children and young people, but also to encourage them to participate, empathise and think further. That's why, in addition to a professional stage programme, we also offer a supporting programme for each piece and a dance workshop for young people at the weekend. We also give teachers and educators the chance to develop a basic understanding of contemporary dance. We offer free workshops for them and their school classes.
Further Informations > www.purple-tanzfestival.de
Since 2022, I am the new curator of the Tanz!Heilbronn festival. The international dance festival has been held annually at the Heilbronn Theater since 2009 and presents contemporary dance for all ages.
The next edition will take place between May 9-14, 2023.
You can view the program here.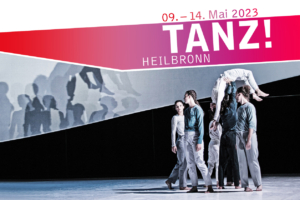 TANZSALON was an artist talk series which I curated between 2014-2016 in order to exchange ideas about artistic collaboration between dance and other art disciplines. With different topics, in different venues there had been four TANZSALON in Berlin which were hosted by the association ZTB e.V. (Zeitgenössischer Tanz Berlin).
Dance & Literature October 22th 2014
Salon-Guests: Christoph Winkler und Tanja
Dückers in the former Karl-Marx-Buchhandlung
Dance & Music March 13th 2015
Salon-Guests: Meg Stuart, Ingo Reulecke, Brendan Dougherty
und Billiana Voutchkova in the former Karl-Marx-Buchhandlung
Dance & Visual Art June 18th 2015
Salon-Guests: Künstlerduo WILHELM GROENER,
Julian Weber und Michiel Keuper in SomoS – art project space
Dance & New Media February 18th 2016
Salon-Guests: Mark Coniglio, Sven Sören Beyer,
Frieder Weiss und Marcela Giesekein CINIQ-Center